2010
In 2010, over 65 years later, the U.S. Congress passed and President Barack Obama signed into law legislation awarding the Congressional Gold Medal – one of the highest civilian awards in the United States – to the 100th Infantry Battalion, 442nd Regimental Combat Team and Military Intelligence Service, finally recognizing the sacrifices these soldiers made for their country. This historic moment was witnessed by six Japanese American World War II veterans, congressional leaders and the National Veterans Network.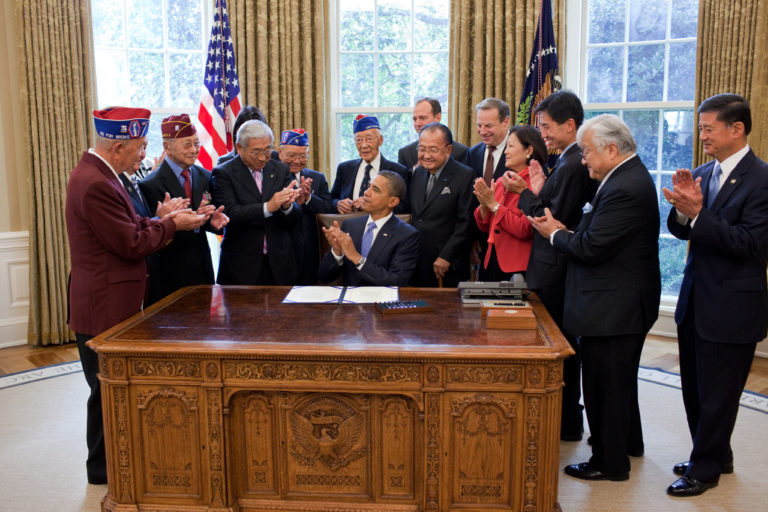 2014
On February 18, 2014, President Obama met with seven of surviving Japanese American WWII veterans, all in their 90s, to thank them in person for their service. President shared the following with the veterans:
"We are all grateful to you for everything you've done for our country because of your outstanding courage and bravery. It shines a spotlight on the wrong that was done to Japanese Americans during World War II. That has had a lasting impact on our country as a whole, because it is a reminder that this country is not based on a particular race, religion or ethnicity, but based on creed and ideals for what you all fought for. So, what you did was not only important to the war effort, but important to appreciate how America thinks about itself. It's one of the important stories in American history and you were all part of that."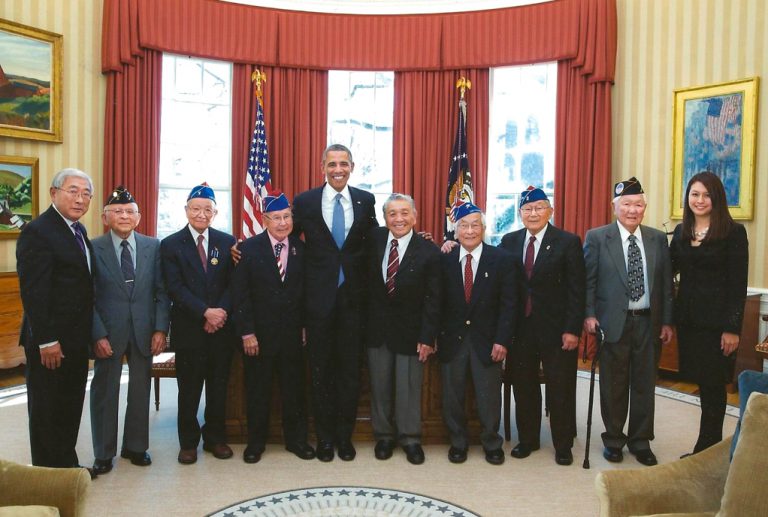 2016
In 2016, the White House invited seven Japanese American World War II veterans along with the National Veterans Network, to meet with the Honorable Eric Fanning, Secretary of the Army on December 15, 2016.
In a closed-door meeting, veterans of the 100th Infantry Battalion, 442nd Regimental Combat Team and Military Intelligence Service freely spoke with Secretary Fanning sharing their military experiences during WWII. They spoke of the hardship and sacrifices made by their unit to prove their loyalty to America at a time when they were looked upon with suspicion based on their ancestry. These veterans shared with the Secretary Fanning the reason they chose to serve their country despite being classified as "enemy alien" by the government.
"We don't want our Country to forget the extreme hardship we had to endure," shared Wesley Koyama, who served in the 100th Infantry Battalion and the 442 Regimental Combat Team. "We did this for the younger generations, so they could stand proud and know what loyalty means."
In addition to meeting with the Secretary Fanning, National Veterans Network and the Veterans participated in the White House Event on Generational Experiences of AAPI and MASSA Communities. A standing room only event, members of the Asian American Pacific Islander (AAPI) and Muslim, Arab, Sikh, And South Asian (MASSA) communities spoke about their shared experiences with discrimination based on ancestry and religious beliefs.
442nd veteran Tosh Okamoto from Seattle, Washington spoke to the group about his experience in the incarceration camps during WWII and how it affected his family. He shared, "I wanted to join the 442nd but my mother didn't want me to volunteer since my dad had a heart attack. I was eventually drafted and served overseas with 442nd Company K. When I learned of their casualties and sacrifice, I vowed I would do whatever I can to honor their memory."